Address
10575 Main St, Clarence NY 14031
STEM's Main Service Area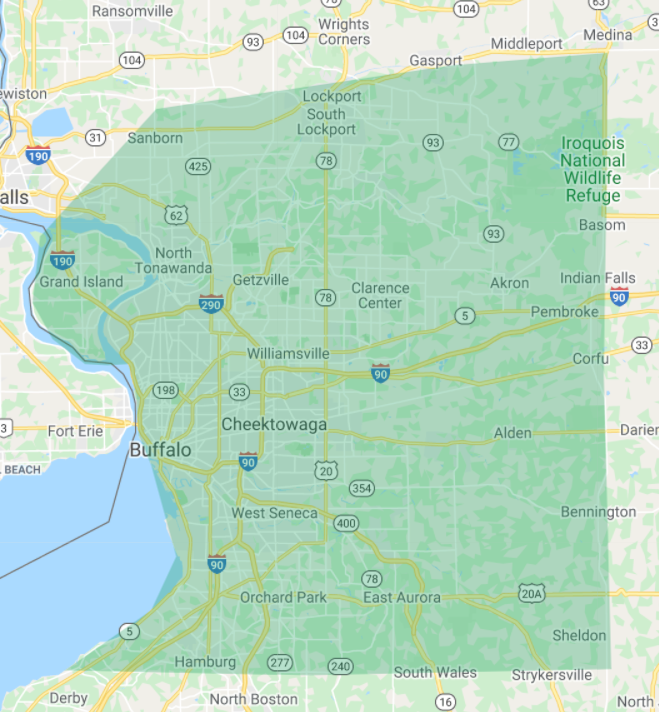 Frequently Asked Questions
Where will STEM travel to?
We travel anywhere in Erie County and the closest parts of Niagara, Wyoming, and Genesee County to your location. There are a few exceptions where we cannot drive to; like small parking garages or in the middle of the woods. If you're not sure, just reach out and ask.
How much does STEM charge?
There are thousands of job and vehicle types, so contact us for an exact estimate for your needs. However generally speaking, STEM services are about the same cost as any other independent repair shop. We spend more time between jobs driving, but we have less overhead cost so our pricing is very similar to what you're familiar with.
Is there a service charge or any additional fees?
Our costs are clearly communicated before every service – we include a travel fee for locations farther away and they are included in the estimate when you schedule using your zip code. We do not add any surprise service, or surcharge fees. All of this is built into our pricing structure, so you will see all charges detailed on your invoice.
Why do you only offer full synthetic oil changes?
We use premium oil and premium oil filters to help your car run the best that it can. Many vehicle manufacturers call for full synthetic oil to always be used. In addition, this extends the recommended service interval from 3k miles to 5k miles.
Will it void my warranty to have STEM do work?
Never. Having a registered repair shop perform repairs or maintenance on your vehicle will not void any warranties, regardless of what dealers may suggest. We always use manufacturer specified fluids and parts. In fact, the Federal Trade Commission prohibits dealers from requiring their services to maintain warranty. In addition, STEM partners with some aftermarket warranty companies to actually provide warranty work.
How do you clean up?
Keeping a customer's home and driveway clean is one of our first priorities. We also have clean-up protocols in place so you won't even know we were there. We use drop-mats and covers for driveways to ensure no oil or rust remains on the driveway.
Can you work in the rain and snow?
Of course! We're in Buffalo, so we are prepared for all types of weather. If the weather is truly dangerous (extreme cold, lightning, tornadoes, etc.), we will take proper precautions. We've had fewer than 5 reschedules based on weather in the past year.
How do you lift the car to work on it?
STEM has portable car jacks and lifts to safely raise vehicles at your location. When we started providing mobile service, this was a much easier problem to solve than expected.
How long will a job take?
Unlike many home services, STEM aims to arrive within 15 minutes of your appointment time. We budget our time based on several "flat rate" standards of vehicle repair that provide time estimates for any given repair or maintenance job and we plan non-billable travel time between jobs. When you receive your quote, it will take into account the commonly accepted amount of amount for that job and your vehicle. Even if the job takes longer than the prescribed time, you will only be charged for the labor time you were quoted. If an unusual situation requires more time for repair, STEM will receive permission from you before performing work that will cost you more than the original quote.
Can I provide the parts for STEM to install?
No. We have many reasons for this but the biggest reason is because we use suppliers who allow us to offer 24month warranty on most repairs.